Podcast: Play in new window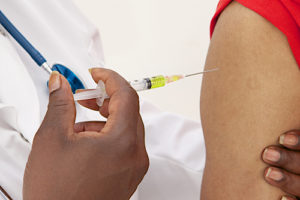 August is National Immunization Awareness Month, which is an annual observance that highlights the importance of vaccinations.
Dr. Willarda Edwards and Byron Sogie-Thomas from the Health Policy Research Consortium discuss the importance of getting your children vaccinated for the upcoming school year.  They discuss the shingles, flu, and pneumonia vaccines, and concerns about the health risks (perceived or otherwise) associated with vaccinations.
They also discuss the role of public policy in providing widespread access to vaccines, how vaccines prevent disease outbreaks, who should take them, how effective they are in saving lives and saving money, and why some people would rather not take them. You will also learn about the history of how immunizations took place before vaccinations came on the scene.