Podcast: Play in new window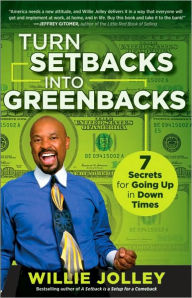 Dr. Willie Jolley talks about how to turn our setbacks into greenbacks.  Dr. Jolley knows firsthand the heavy load that setbacks can create and what it takes to bounce back.  His ability to comeback from a tremendous setback earned him the title of the "King of Comeback!"
In this episode, Dr. Jolley provides specific steps about how to overcome what he calls the "Devastating Ds" of divorce, downsizing, disease, disaster or death of a loved one.
In addition, Dr. Jolley talks about the importance of talking to people about what you are doing, his "5 foot Rule," and so much more.
This episode is full of information and free resources to help you start turning your setback into a comeback and turn the comeback into greenbacks.
Take a listen!